ANA will start paid lounge service at Haneda / Narita airport international flight from Boarding on April 12, 2017.
Although ANA's pay lounge is already done as "ANA MY CHOICE", it will be deployed as an independent service in the future, and lounge use service as "ANA MY CHOICE" will be only Haneda airport on the domestic flight.
ANA LOUNGE Paid lounge service (after April 12, 2017)
ANA LOUNGE (Haneda airport and Narita airport international line) provided as a service for senior members of ANA and Star Alliance can be used for a fee.
Simple meals, alcoholic beverages and Wi-fi are provided in the lounge.
Available lounge
Haneda Airport international flights ANA LOUNGE
NArita Airport international flights ANA LOUNGE
There are two kinds of lounges provided by ANA. The lounge which can be used for a fee is ANA LOUNGE with a low rank. ANA SUITE LOUNGE with a high rank can not be used.
ANA LOUNGE is in place after check-in and security inspection. We recommend that you go through the check-in and security inspection as soon as possible.
Lounge usage fee and payment method
Applicable users of this service are eligible for ANA website (excluding Mexico site) · ANA telephone counter · Airline ticket users purchased at city counters. Also, it is not covered when using award tickets.
How to apply
Receptionist
Object
Usage charge (tax included)
Method of payment
ANA Web site
24 hours before departure time
Those who purchased an airline ticket of Y/B/M/U/H/Q/V/W/S class
4,000 yen (1 person)
Credit card
Airport counter
(Check-in counter at Haneda / Narita airport, ticketing counter, lounge)
That day
Those who purchased an airline ticket of Y/B/M/U/H/Q/V/W/S/L/K class
6,000 yen (1 person)
Cash (Japanese yen only), Credit card
When using the lounge, it is necessary to present a boarding pass at the reception desk when entering ANA LOUNGE on the day.
About change / cancellation after application
Cancellation / refund after application can not be made. You can make a phone call by 24 hours prior to the departure time of the international flight of the reserved flight and change it to another schedule within the expiration date.
You can apply for this paid service 24 hours before departure from ANA's website. Since it can not be canceled, it is good to sign up after using it securely.
Changes at the airport and cancellation are not accepted. You must call for change by telephone.
In the future, if it becomes a system that can be done with WEB until change, it will be a very user friendly service, but now it is bad usability.
Notes
Paid ANA LOUNGE service can not be used when using an award ticket available for exchange with ANA Mile.
If you want to use ANA LOUNGE when using an award ticket, you need to obtain a ticket such as business class.
The EMD customer receipt acquired at the time of application must be kept until use.
Flights departing from Narita Airport 16:00 – 19:59 can not be pre-subscribed on the ANA website. You can apply at the airport counter on the day, but the usage fee will be higher.
Paid lounge service of "ANA MY CHOICE" (until April 11, 2017)
As "ANA MY CHOICE" you can use "ANA LOUNGE" at Narita · Haneda Airport international line for a fee (reception has already ended on April 4, 2017). We will summarize the service contents in the sense of comparing what is different from the paid lounge service after April 12, 2017
Target person
Those already purchasing ANA group operated flights from Haneda Airport / Narita Airport with ANA flight number
Customers under the age of 20 must be accompanied by persons 20 years of age or older.
Comprehensive travel fare, etc. will be excluded when booking with a fare which is not eligible for some.
Target airport
Haneda Airport · Narita Airport International Lounge「ANA LOUNGE」
usage fee
Once (1 person): 5,150 yen
Payment with cash (Japanese yen), credit card is possible.
Infants under 2 years old accompanied by adults aged 20 years or over are free.
Application period
It will be two months before boarding day and after purchase of tickets ~ 18 o'clock the day before boarding day.
How to apply
Application on the ANA website is required in advance.
Advance application is possible from "ANA MY CHOICE" displayed on the confirmation screen of reservation contents after ticket purchase. ※ It may not be available depending on the congestion situation.
Flow of use
Please apply in advance and get "ANA MY CHOICE LOUNGE EMD customer deduction" after paying the ticket counter at Haneda Airport / Narita Airport. For payment of the fee, cash (Japanese yen), credit cards are available.
We will present "ANA MY CHOICE LOUNGE EMD customer dedication" at the reception at lounge entry and use it.
Precautions for use
For principals who have been registered on the ticket side, only one person can be used per one person.
Issue date, issued Only available at the airport lounge, before departure.
If the lounge is full, it may be used by another lounge. In that case you can get a refund only at departure airport on the day of departure.
Members of ANA "Diamond Service", "Platinum Service" members, ANA Super Flyers Card Members, "Star Alliance Gold" members can use the lounge free of charge by presenting cards.
Depending on the class you use, the lounge may be available for free, in that case you do not need to use "ANA MY CHOICE".For details, please refer to usage criteria.
At Narita airport, payment is accepted until 1 hour before departure from last flight of ANA.
Accumulated miles
51 Mileages
Summary
From ANA's launch on 12th April 2017, lounge use service at "ANA MY CHOICE" will be domestic flight only, and independent paid lounge service will be started at Haneda Airport and Narita airport international flight line.
The big difference between "ANA MY CHOICE" and the "ANA MY CHOICE" is that the usage fee will change.
By applying from the ANA website, it is cheaper 4,000 yen, and when you apply at the ANA counter on that day it will be 6,000 yen higher than before.
It seems that it is aiming to process without using personnel expenses by using the WEB system.
And although it is only 51 miles on "ANA MY CHOICE", ANA mileage was accumulated, but mileage accumulation will be lost in the future.
As in the past, comprehensive travel fare users such as award tickets and tours exchanged with ANA mile can not apply for this fee lounge service.
If you would like to use ANA LOUNGE, you can become an advanced member or save so many ANA miles and get over a business class award ticket.
If you would like to collect a lot of ANA mileage and acquire a business class award ticket, please also see "Explain easy 3 step method anyone can do to save ANA Miles".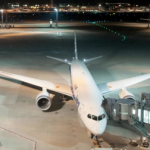 Miles saved up, I want to go on a trip – and lost the daily rushes, while I approach is more difficult to earn mileage quickly earn mileage lots of. Good personality, diligently saving mileage, is I don't like small tasks such as those only ANA mile easy to save large amounts of.

I think saving ANA tickets on popular routes, even a little easier to take then is saved in foams, high exchange rate that JAL Mileage.Who want to travel and save a lot of mileage is important in gaining large numbers of mileage to run steadily accumulating point site also, and the monthly go saving large amounts of both.